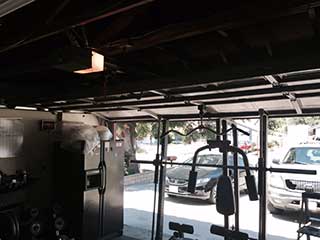 Garage doors can function well for several years, but it's recommended that you take care of the system to keep it in good condition for as long a possible. There are definitely steps you can take to get the most out of your garage door for longer. Read on for some maintenance tips from our experts!
Knowing How To Clean The System
Your user manual should give you instructions for taking care of your garage door. For most, this involves removing any obvious dirt, clutter, and obstructions from the tracks and washing the panels with warm, soapy water. You should make sure to dry any wet parts after cleaning as moisture which sets into your system can mean bad news.
How To Prevent Rust
Rust will destroy the material of your door if left untreated and allowed to spread. It's preferable that you inspect the surface to see if there are any obvious traces and attempt to gently remove it with steel wool - you'll then want to apply an anti-rust coating to prevent rust from setting in again.
Checking All The Parts Are Intact
Regular inspections can go a long way toward preserving your system. If you notice minor balance issues, shaking, or signs of wear and tear, it will give you a chance to take action before things get too bad. If you notice joints or other parts coming loose, these might seem like small things but it's definitely worth tightening them and making any necessary adjustments as soon as you notice the need for them. It's surprising how seemingly small issues can spiral into more costly repair jobs if not dealt with!
Safety Test Your System
If your opener is intact and functioning properly, your sensors should detect when something is in the path of the door and prompt it to close. This is an important safety feature. To test it, place something like a broom beneath the door while it's open, stand back and trigger it to close. If the door continues to close onto the broom, it's likely that there is a problem with the sensors that should be inspected by a professional.
For further information or assistance regarding maintaining your door, get in touch with our experts at Garage Door Repair Denton - we'll be glad to help in any way we can!