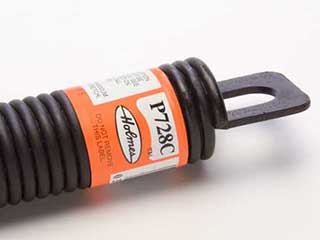 There are some maintenance tasks that garage door owners can carry out on their own. Lubricating the moving metal parts and testing the safety sensors, for example. When it comes to the springs, however, you should let the experts handle things. These components can be very dangerous, and you could get seriously hurt if you mishandle them.
Regular Adjustment Procedures
Over time, your garage door springs will begin to wear out. There's no avoiding that. However, with the right maintenance routine, their longevity can be extended quite significantly. Our experts can conduct a balance test on your door to determine what exactly needs to be done. Then, we'll carry out the spring adjustment task very meticulously, making sure not to overload them with tension which can cause them to wear out quicker. Your door will be perfectly balanced once we're through.
Spring Repair and Replacement
Often times, a broken torsion or extension unit will need to be replaced to be on the safe side. While in some cases the broken spring could be put together, it's usually not worth it, as its integrity has already been compromised, and the results won't be as reliable as simply installing a new unit. The act of replacing this type of component requires technical skill and experience to complete safely, so we urge you not to undertake this type of project on your own. Our team is already ready to help.
Recognizing Trouble Signs
Realizing a spring broke would be very easy, as your door will most likely drop down from the sudden release of tension, and you'll hear a loud and sudden BANG, which the unit itself will make as it breaks. But there are ways to know your spring is about to break beforehand. If you hear excessive squeaking while the panels are in motion, if your door is unable to open all the way or stay in place when you use it manually, these are telltale signs that you probably have (or are about to have) a spring related problem. In any case, our team at Garage Door Repair Denton are just a phone call away. Call us today.
Want more? Let us take care of:

Damaged Parts Replacement

Garage Door Remote Clickers

Belt Drive Opener Installation

Garage Door Transmitter Repair